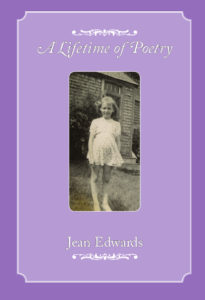 Relinquishing an opportunity to teach seventh and eighth grades in Maine schools, the author married a career Navy man. Together they raised four children: a school teacher, an engineer, a YMCA Program Director and a PHS Commander.
Ms. Edwards has been interested in writing since an early age, writing poetry and scripts for marionette performances. In high school she continued writing poetry and stories, entered State speaking and essay contests, and as a member of the debate team competed against Lincoln Academy, Bates College freshmen, and John Bapst High School, where she tied for best speaker.
When the family moved to the Washington DC area because of a military transfer she became the first in the Maryland, Virginia, Delaware, and Washington DC area to become certified as a Nationally Rated Gymnastics Official, later earning her International License. As an expert in her field she taught judging clinics at the Master's level.
Teaching herself to type, she obtained a position with Health and Human Services Department Headquarters outside Washington DC where she prepared congressional correspondence for signature. As a hobby she studied the porcelain process and eventually taught the art of porcelain doll making in Montgomery County, Maryland. A position as Assistant Director of Drama at Gaithersburg High School was followed with being selected as a consultant with the City of Rockville Ballet. Upon her husband's retirement they moved back to her home state of Maine, where she formed an exercise club and started a youth dance troupe, offering free dance instruction to local children for four years. A program was presented to the town each year with originally choreographed routines and costumes.
While serving on the town Planning Board she encouraged the establishment of a park in the town center and also received the George Hale Award for literary and artistic excellence.
Writing was always her first passion, and when she could no longer teach dance she began her career as an author, with fifteen books to her credit to date, including poetry, historical novels, and children's books. She is a member of the Maine Writers and Publishers Alliance.
$28.95
370 pages
ISBN 978-1-940244-86-0