From yesterday to tomorrow at a Maine icon
by Alan Buncher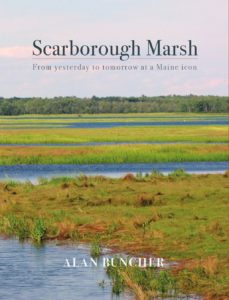 This coffee-table book tells the story of the Scarborough Marsh, an icon of southern Maine.
Thousands of vacationers, as well as locals, visit the marsh every year. They fish, kayak, hike and bird watch there.
It looks at the marsh's formation 10,000 years ago and moves to oyster farming today.
And this book features compelling stories about the peoples who lived in and around the marsh from the past to today…and how they changed the marsh.
Then the book examines the forces of future change.
About the Author

ALAN BUNCHER is a former newspaper reporter, editor and publisher. He has used Scarborough Marsh as
a place for relaxation as a fly fisherman, and a place to spend a lazy day in a canoe, to take a walk on a trail or to sit and watch birds fly by.
$39.95
ISBN 978-1-63381-101-0
68 pages