Paintings by Joel Janowitz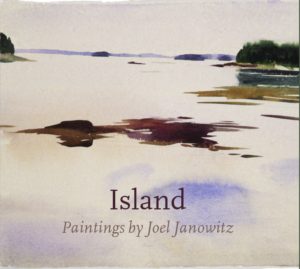 For the past twenty years, Joel Janowitz has had the good fortunate, and the good sense, to spend time each summer on Great Spruce Head Island in Penobscot Bay. Fairfield Porter was five years old when his father purchased Great Spruce Head Island in 1912. Until his death in 1975, Porter spent summers on the Island where he observed the magic of Maine's coast – the ever changing light, the shifting colors, the frequent unannounced transitions in the weather, and the unpredictable carpet of the sea at his door step. Each summer, just as Porter was, Janowitz is a witness to this magic. And like Porter, he brings paints and easel to the Island and captures the magic in his work. Although Joel Janowitz inhabits a place that was home and inspiration to Fairfield Porter, he does not simply follow in the former resident's footsteps. Janowitz creates his own path using the visual material that is both historical and contemporary.
With paints and easels in hand, each year hundreds of artists come to the coast of Maine, one of Americas' most glorious vistas. This seasonal migration isn't new. For hundreds of years painters have been drawn to Maine. Some have found images and inspiration here that, coupled with their remarkable talents, have propelled them into the nation's most prestigious museums and located their work in the art history books. Few contemporary artists have faced the challenge of bringing new vision to a much-painted landscape as successfully as Joel Janowitz has.
This book is firm evidence of Janowitz's creative vision and his ability to represent that vision in his paintings, watercolors and monotypes. The three media are interconnected, each informing the other. Each provides a separate path to a single goal: the personal expression of fleeting perceptions from a dynamic environment. Joel Janowitz avoids the clichés that contemporary Maine art often gets lost in, and by so doing, he is free to head in new directions.
$59.95
Hardcover
ISBN 978-1-940244-35-8
80 pages