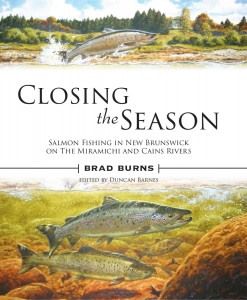 Closing the Season recounts an Atlantic salmon fisherman's love affair with the world-famous Miramichi River and with the Cains, one of its most appealing autumn-run tributaries.  You'll meet salmon fishers like baseball great Ted Williams and Hungarian freedom-fighter and guide Willy Bacso.
From the author's journal notes taken on a daily basis for the last five weeks of the fishing year, the reader gets to share with Burns the thrill of angling for salmon on their spawning passage upstream as the brilliant fall foliage peaks and wanes and the Miramichi settles in for the long, cold, Canadian winter.
Closing the Season offers more than 125 photos and illustrations including carefully researched old maps and other interesting historical documents. Burns also shares some very useful information about flies and angling gear, along with anecdotal how-to that will be of interest to any salmon angler. But Closing The Season is most of all a celebration of the joys of salmon fishing in a great Canadian watershed that boasts the largest run of Atlantic salmon in North America.
About the Author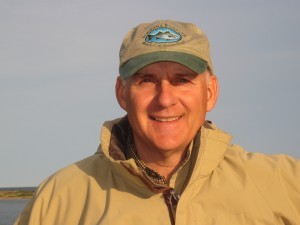 Brad Burns has avidly pursued striped bass, brook trout, Atlantic salmon and a host of other game fish for over 50 years.  He is the author of the L.L. Bean Fly Fishing for Striped Bass Handbook, and with John Cole co-authored Fly Fishing for Saltwater's Finest in addition to this latest book Closing the Season: Salmon Fishing on New Brunswick's Miramichi and Cains Rivers.  Brad has also written for many of the best known fly-fishing publications.
Fishery conservation has been a big part of Brad's life.  He is one of the founders and the president of Stripers Forever, spent years on the board of the Coastal Conservation Association, and is on the boards of both the Miramichi Salmon Association and the Atlantic Salmon Federation.  For his efforts towards conservation he has received awards and been recognized by a number of organizations including The Federation of Fly Fishers, The Fisherman's Conservation Association of New York, and Sage Fly Rods.  
 Brad fishes frequently for Atlantic salmon on New Brunswick's Miramichi River, on other Canadian Rivers, and annual, early-season trips to Scotland.
$49.95
224 pages
ISBN 978-0-9908626-1-1