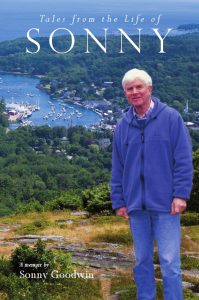 A memoir by Sonny Goodwin
Although referred to as a memoir, this collection is much more than one man's recollections of a time and a place, now in the distant past.
Sonny Goodwin was born in Camden in 1934 and has lived there his entire life and raised his family there. His father owned a grocery store on Main Street and he was expected to go into that business, but his skills directed him to a far more extensive career in the construction business.
The stories in this book paint a vivid picture of life in a small town on the coast of Maine during the Great Depression and World War II, and in the years since, lived by someone with an unusual ability to recall details of events decades ago, and with a great appreciation for the gifts bestowed on him simply by virtue of a coincidence of being born and spending his entire life in a very special place.
Although these are Sonny's stories, they are the collective experiences of an entire generation of boys born and reared next to the sea and whose lives revolved around the outdoors and who were inculcated with a sense of community that may, unfortunately, be a thing of the past.
As much as his environment contributed to the man he became, Sonny Goodwin returned those gifts a thousand times over as he worked tirelessly for decades to improve the town he loves so much.
A memoir, yes, but this book captures the essence of a time, a place, and a person that will live with you long after you put it down for the first time.
$19.95
271 pages
ISBN 978-940244-46-4