A WANDERING EXECUTIVE'S JOURNEYS INTO THE PHILIPPINES
by James R. Nelon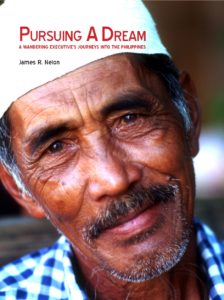 Soaring thousands of feet into the sky, verdant two-thousand year old rice terraces sustain water-filled paddies perched precariously at the edges of towering, steep-sloped mountains. Secluded, seldom-visited inimitable tribes dwelling at subsistence levels in isolated distant jungles and rain forests cling to distinctive thousand year-old customs and cultures, practicing survival mechanisms crafted throughout the millennia. Nomadic tribes living on remote, outlying islands survive by cultivating rich mountainside soil, enriched by traditional slash and burn practices, providing sustenance in their seclusion from the modern world.
These visions are the things of boyhood dreams and adventures, imagined over and over again by the author while growing up in Mid-America. Like adolescent boys perhaps everywhere, dreams of far-away, untouched places unleashed fantasies of visits to intact tribes living in the remotest enclaves in the Philippines, where intrigue, triumphs and achievements become part of their daily life.
James R. Nelon chose to live out some of those early childhood imaginings. In a lull in his executive work life, he took a year off from the corporate world to chase the fantasies and daydreams of his childhood. Venturing into the remotest regions of the Philippines, the author traveled solo into the jungles and mountains of isolated islands and inaccessible villages to visit, stay with, write about and photograph peoples only envisaged. His vivid word descriptions paint a vision of life as it is today in the rain forests and jungles of the Philippines. His dramatic writings are only succeeded by the superb, rich images he captured as a talented photographer, images taken by him while on these adventures.
This book is required reading for arm-chair adventurers who yearn to peal back the foliage of long forgotten lands to witness how natives half-way around the world have lived for millennia, undisturbed by the stresses and annoyances of modern chaotic life. These stories are as timeless in their character as the natives who live them. Come join in the pure joy of long-sought adventures spent crossing remote rivers, hiking through far-flung mountains as you read these stories newly found and freshly told.
About the Author

James R. Nelon was born in Shawnee, Oklahoma, USA, and attended Trinity University, San Antonio, Texas, earning undergraduate and master's degrees while studying business and computer science. He has spent most of his working life in the corporate world starting up new businesses and managing software ventures for large and medium‐sized companies in the USA and overseas. The overseas stint included living for eight years in Hong Kong, during which he traveled throughout Asia. It was during this time that he wrote stories about his travels to the Philippines and recorded in photographs and video the amazing people you see in this book.
$56.95
ISBN 978-1-947758-15-5