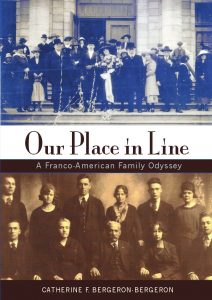 Tracing the Roots of Franco-American Culture…
Our Place in Line is a 20,000-year odyssey of daring, imagination, and endurance offered to those who seek to trace their earliest roots from ancient Gaul to the twenty-first century United States via Feudal France and Colonial Quebec. This is a comprehensive exploration of French surname origins with ancestral profiles representing a broad cross-section of Old Regime France. The narration also provides a blueprint for Quebecois descendants to trace their specific ancestral participation in the century-long French and Indian Wars. Witness this personal account of Francophone heritage profiling several families who settled in the manufacturing communities of Lewiston and Auburn, Maine, following the great nineteenth and twentieth century French-Canadian migration to the United States.
About the Author
An avid collector of ancestral photos and anecdotal lore, Cathy published Our Place in Line as a tribute to her Franco-American heritage. In 1973 she earned a Bachelor of Arts Degree from Northeastern University College of Journalism, where she included every history course she could fit into her schedule. Cathy was a reporter for the Lewiston (Maine) Sun-Journal during her college years, tried her hand at various other occupations including hospital public relations, radio and paralegal services before finding her true calling as a homemaker, "with all the bells and whistles of gourmet cooking, quilting, gardening, family history research, and the care of my aging parents."
Retired and devoted to her family, she recommends that the best approach when looking for ancient ancestors is to include the study of historic events, languages, locations and cultures, as well as individual documentation.
Price: $34.95
Pages: 305 pages
ISBN: 978-1-940244-69-1