by Christopher Paquette
Illustrated by Nicholas Randall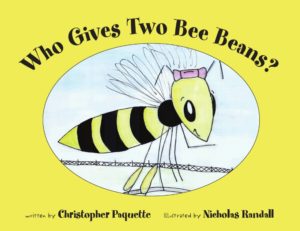 Farmer Little meets a visitor to the farm who needs our help. Discover the importance of our native and domesticated pollinators, who contribute to the growth of our food. Travel with Polli the honeybee as she shows Farmer Little the hard work involved, and discover what you can do to help our pollinators, as well as ourselves.
About the Author

Christopher Paquette grew up on the shores of Lake Champlain in Burlington, Vermont. An environmentalist at heart, he builds natural swimming pools around the country and tends a small farm in southern Maine. His passion for gardenrelated reading has been lifelong, and his desire to reach children with his environmental message is his mission.
About the Illustrator

Nicholas Randall illustrated this, his first book, at 12 years old. Living in southern Maine, he loves to draw and has a very strong desire to be part of the solution when it comes to the environment.
$14.95
ISBN 978-1-940244-66-2
34 pages