Cat with an Attitude
by Youbell Youella "Mrs. Belle"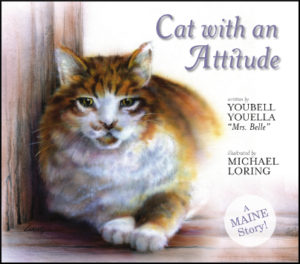 Enjoy the true adventures of a cat with an attitude that never quits. Learn a lesson when his tail gets run over. Imagine coming face to face with a skunk!
Explore with Troubles as he chases birds, scares neighbors, opens doors, and ruins prom plans. These are only a few of the adventures of Troubles. Tag along as he gets into "trouble" over and over again!
About the Author

Youbell Youella Court Jackson is a lifetime resident of Maine and currently lives in Windham. She loves animals and loves to share her stories. This is her first book.
If you enjoyed the adventures of Troubles, stay tuned for the next book by Youbell…a story about her dog named Buddy!
$17.95
ISBN 978-1-940244-95-2
28 pages